Monsanto's 'cancer-causing' weedkiller destroyed my life, dying man tells court
Testifying in landmark trial, former school groundskeeper describes suffering allegedly caused by company's chemicals
Dewayne Johnson said that if he had known what he knew now about Roundup weedkiller, "I would've never sprayed that product on school grounds … if I knew it would cause harm … It's unethical."
Johnson, a former school groundskeeper in northern California who is terminally ill, was testifying on Monday in his landmark suit against Monsanto about the cancer risks of the company's popular weedkiller. He is the first person to take the agrochemical company to trial over allegations that the chemical sold under the Roundup brand is linked to cancer.
Landmark lawsuit claims Monsanto hid cancer danger of weedkiller for decades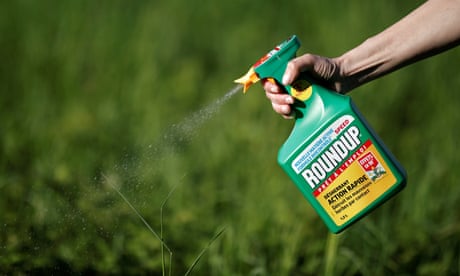 He spoke for the first time during the trial in San Francisco, detailing his use of Monsanto's products, his extensive exposure to herbicides, and his belief that the chemicals caused non-Hodgkin lymphoma (NHL), a blood cell cancer. He also described the suffering he endured as skin lesions took over his body.
"I've been going through a lot of pain," said Johnson, a father of three who goes by the name Lee. "It really takes everything out of you … I'm not getting any better."
His doctors have said he may have just months to live.
Johnson's lawyers have argued in court that Monsanto has "fought science" over the years and worked to "bully" researchers who have raised concerns about potential health risks of its herbicide product. At the start of the trial, the attorneys presented internal Monsanto emails that they said revealed the corporation's repeated efforts to ignore expert's warnings while seeking favorable scientific analyses and helping to "ghostwrite" positive papers.
Thousands have brought similar legal claims across the US, and a federal judge in California ruled this month that hundreds of cancer survivors or those who lost loved ones can also proceed to trial. Johnson's case has attracted international attention, with the judge allowing his team to present scientific arguments about glyphosate, the world's most widely used herbicide.
Monsanto has continued to assert that Roundup, which is registered in 130 countries and approved for use on more than 100 crops, is safe and not linked to cancer, despite studies suggesting the contrary. Notably, the World Health Organization's international agency for research on cancer (IARC) classified glyphosate as "probably carcinogenic to humans" in 2015, a decision that has been central at the trial.
Johnson, 46, took the stand in a crowded courtroom and said he was excited when he first got a job as a groundskeeper and pest manager for the school district in Benicia, a suburb north of San Francisco. Part of the work, which began in 2012, involved spraying herbicide to control weeds on school grounds – sometimes for several hours a day.
Although he wore extensive protective gear while spraying, he was often exposed to the Roundup and Ranger Pro chemicals, both glyphosate-based Monsanto products, due to "drift", he testified.
"You were getting it on your face everyday," he said. "It was kind of unavoidable."